Martin Thornburg Interview
Earlier this year, Jessica, her mother and her dear friend, traveled to New Jersey and were given a tour
of the showroom. She was able to select her wedding gown from hundreds beautiful designs. When we
say we make dress dreams come true at The Ultimate, we really do! We could not, of course, do it
without our wonderful and supportive partner, Steve Lang and Mon Cheri Bridals. Without giving
anything away, she chose a gown created by Martin Thornburg. Learn more next week.
Although we obviously are not able to show you the gown, but we are putting Martin Thornburg in the
spotlight for an up close and personal visit with this legendary designer.
How did you get started as a bridal gown designer?
I started sewing when I was a senior in high school, making my own costumes and my friends' prom and homecoming dresses. After high school, I went to cosmetology school at Gordon Phillips Beauty School in Norristown, PA. While I practiced cosmetology for 10 years, my passion was still design. During my time as a cosmetologist, I was designing costumes and even started creating custom bridal dresses. I remember when I started designing costumes for a local theater. I just fell in love with the whole creative process. In 1997, I joined Mon Cheri Bridals. Today, I design for 4 brands: Martin Thornburg, Luxe, Enchanting, and Modest.
Where do you get your inspiration?
I get my inspiration from brides that I work with; I love meeting them at trunk shows.
Lace and fabric can also be the inspiration for a particular silhouette or detail.
What 3-4 words describe your style?
I would describe my style as traditional, with a modern flare. It is sexy and feminine.
Do you have a favorite story about one of your designs?
I actually designed my wife's wedding gown. Marcela, my wife, told me she wanted a fitted bodice with a full skirt. She let me choose the fabric all of the other details. I had so much fun making it. I had no idea what it was going to look like! I did the fitting of the bodice on a muslin because I knew I couldn't see her in it yet! It was 40 yards of embroidered silk shantung. The big surprise for my wife was I made her an opera coat to accompany the dress. My wife being from Ecuador was always cold, so I surprised her with this to make sure she was warm for the wedding in November.
Do you have a picture you could share of you and also one of your favorite designs?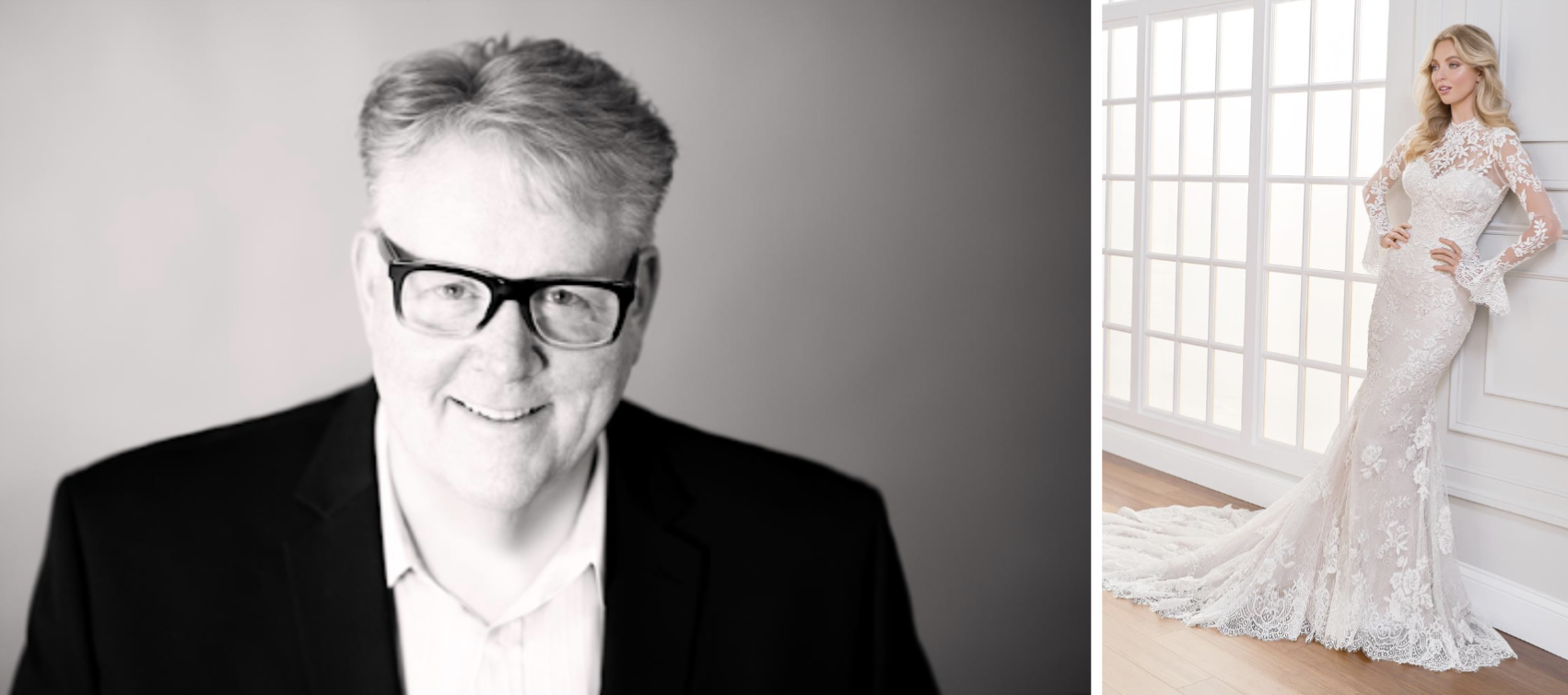 With so many choices, what is your best advice for brides to help them select a gown?
Follow your instincts; you know what looks best on you. Don't listen to other's made-up rules. Buy a dress that YOU are in love with.
What should a bride do before making an appointment at a salon?
Come prepared with pictures of inspiration for your dream dress. Also, come with pictures of dresses you do not like as much to help guide your stylist. Explore different bridal salons in your area (inventory, staff, vibe). When you walk in, you should get a feeling that this is going to be the place that you find your dress. It is also important to build a relationship with your stylist. If you like the place and not your stylist, don't be afraid to ask for someone else who you feel you might have a better connection with. They are there for YOU.
How far ahead should you plan to order your gown?
For your own peace of mind, the sooner the better! It is best to have at least 8-12 months to order, sew, and alter your dress.
What trends do you see for 2023/2024?
For the bridal industry, the biggest trend at the moment is sleeves! As a designer, this is a trend I adore! There are so many variations of sleeves I can design. My favorite sleeve type is the bishop sleeve. Bishop sleeves add a perfect touch of romance to your wedding gown. For the longest time, bridal gowns were strapless with a sweetheart neckline (a classic look I love)! But now, the addition of sleeves to bridal gowns means endless design possibilities.
How important do you believe a veil is?
I think veils add the finishing touch to your wedding ensemble. There are so many detail and length options available for brides today. Whether it is short and simple or cathedral length and ornate. It's wonderful to see veils trending again.